Free Delivery on orders above $50

We offer next day delivery for orders made before 3pm on weekdays, exclude Public Holidays
Singapore Journey - Frangipani & Ginger Medium Soy Candle
The quintessential fragrance of Singapore; Frangipani & Ginger. This tiny Island has the most magnificent flowering Frangipani Trees and Ginger Flowers fragrancing the City morning and night.
The 'Journey' Artist Series is a collection of iconic artist inspired images and interpretive, delightful fragrances capturing great Cities and Countries around the World. Whether you wish to relive your Journey or imagine yourself there, be transported through these fragrances.
Creating an optimal state of mind through the use of beautiful and holistic fragrances.
SHOP NOW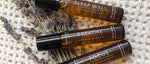 Essential Oil Roller Ball Interactive Workshop
Enjoy a fun and informative session with To Be Calm as we take you on a journey of the benefits of essential oils and provide guidance on the creation of specific 'Wellness' blends.  Essential oils may be used singly or in a combination to bring about curative and restorative processes to the mind and body.
To Be Calm's essential oils are sourced from growers and distillers all around the world, they are 100% natural and produced to therapeutic and food grade standards.  
Book Now
About us
At To Be Calm all our products are carefully curated using the highest quality ingredients.Wherever possible natural ingredients are used such as coconut & soy wax in our candles to ensure a clean, fragrant and even burn. Our essential oils, body products and massage oils are 100% natural. We believe in the philosophy that using fragrance can create an optimal state of mind.