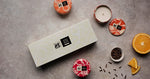 To Be Calm, the luxury fragrance retailer renowned for its bespoke scented candles, diffusers and calming essential oils, is excited to announce its collaboration with Maggie Beer AM who is an Australian cook, food author, restaurateur and food manufacturer.
Together with Maggie Beer, To Be Calm have created a beautiful trio of candles with Maggie's favourite scents of the season:
o   Peach & Vino Cotto
o   Rhubarb & Persimmon
o   Seville Orange & Clove
Drawing on Maggie's love of good food and the distinctive aromatics of her favourite seasonal produce, we have created 3 beautifully fragranced candles to add the final touch to sharing your table, or any other room of the house for that matter!
With scents of peach & Vino Cotto, rhubarb with persimmon and Seville orange with clove, these soy and bees wax candles last up to 25 hours and evoke all the sentiment of Maggie's life in the country!

If you are in Australia - from October 30th 2017 until Christmas Eve, Maggie Beer will be popping up at Chadstone Shopping Centre to ensure your Christmas stockings are packed with all your favourites from Maggie's delicious range including the new To Be Calm range of candles.
 
Maggie Beer operates a business in the Barossa which produces a range of gourmet foods, including Pheasant Farm Pate, quince paste, verjuice and gourmet ice creams. She co-hosted the ABC television cooking program The Cook and the Chef with Simon Bryant, who is the Head Chef for the Hilton Hotel, Adelaide. She has also appeared several times as a guest judge and guest masterclass presenter on MasterChef Australia.